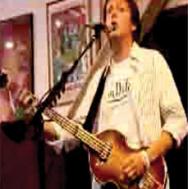 CAT # HMLP-30607

DISC ONE
1. Only Mama Knows 3:45
2. C Moon 3:24
DISC ONE
1. That Was Me 3:15
2. I Saw Her Standing There 3:24
Paul McCartney and his great band shocked the music world by performing a surprise, first ever in-store concert at famed Los Angeles record shop, Amoeba Records. Four songs from this now legendary show were recorded and available on a limited edition vinyl entitled Amoeba's Secret.
In December, McCartney received two 2009 Grammy Award nominations from Amoeba's Secret including Best Male Pop Vocal Performance for "That Was Me" and Best Solo Rock Vocal Performance for "I Saw Her Standing There."
The lucky people who camped out for two days to attend this rare performance know how special that night was. Now the rest of us have a chance to experience one of popular music's true icons in such an unusual and intimate setting.
Find out more about Paul McCartney