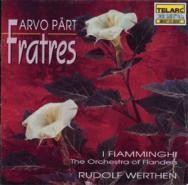 CAT # 80387-25

1. Part: Fratres for strings and percussion 10:18
2. Part: Fratres for violin, strings and percussion 12:00
3. Part: Cantus in Memory of Benjamin Britten for strings and one bell 7:09
4. Part: Fratres for wind octet and percussion 8:10
5. Part: Fratres for eight cellos 9:48
6. Part: Summa for Strings 4:18
7. Part: Fratres for string quartet 9:58
8. Part: Festina Lente for strings and harp ad libitum 6:41
9. Part: Fratres for cello and piano 10:28
I Fiamminghi's vibrantly warm sound, the electrifying virtuosity of their playing and the expressive impact of their performances have excited critics and audiences alike.
Fratres is based on the repetitions of an austere, hymn-like theme played above a continuous drone on the interval of an open fifth. The dynamic peak is reached in the middle of the work, after which the music gradually diminishes to a silence. The piece ends in a hushed spirituality. Fratres, in its original version of eight variations, was composed in 1977 for string quartet and wind quintet. Telarc presents seven of the eight original variations for the first time.
Also included on the CD are three additional works by Pärt; Cantus in memoriam of Benjamin Britten for strings and one bell, Summa for strings and Festina Lente. The Cantus is brief but deeply moving, based on a single thematic idea, while Summa creates a mysterious aura with its haunting modal sound. Festina Lente's long serpentine melody is simultaneously sounded in three different tempos, borrowing a compositional technique known as "mensuration canon" from Ockeghem and the other most learned fifteenth-century masters.
Find out more about Rudolf Werthen & I Fiamminghi
MORE RELEASES FROM RUDOLF WERTHEN & I FIAMMINGHI
CLASSICAL ESSENTIALS