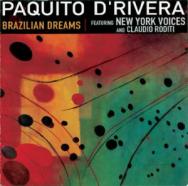 CAT # MCGJ1010-25

1. Corcovado 7:25
2. One For Tom 5:03
3. Manha De Carnival/Gentle Rain 5:34
4. Desafinado 4:51
5. Modinha 4:27
6. Meu Amigo 4:04
7. A Ra 6:52
8. Retrato Em Branco E Preto 6:04
9. Red On Red 4:07
10. Snow Samba 5:19
Paquito D'Rivera's love for vocal quartet music began in the 1960's in Havana listening to the radio programs on Miami's WQAM that featured wonderful vocal quartet harmony for commercials and station ID's. His love affair with Brazilian music also began around this time coinciding with the Bossa Nova movement and emergence of Antonio Carlos Jobim as the "Duke Ellington" of Brazil. Paquito had dreamed of one day incorporating his love of American vocal quartet music with the melodies and harmonies of his favorite Brazilian composers. Brazilian Dreams (MCGJ 1010) realizes that dream.
This album, recorded live at Manchester Craftsmen's Guild (MCG) over four nights in April 2001, captures the passion and soulfulness of this unique performance and recording session. Members of the New York Voices as well as Marty and Jay Ashby attended Ithaca College where they were exposed to the musicianship of Paquito and Claudio Roditi, Brazilian Jazz Trumpeter, in 1983 at the Ithaca Jazz Festival. That encounter began a true mentor relationship between the masters and their students that comes into full bloom with this recording. Peruvian born Oscar Stagnaro has performed with Paquito for many years and Brazilians, Helio Alves and Paulo Braga appropriately round out the rhythm section.
Brazilian Dreams includes Jobim classics such as "Corcovado" and "Desafinado" with lesser-known masterpieces, "Modinha," "Meu Amigo" and "Retrato Em Branco E Prêto" (sung in Portugese) that demonstrate the depth of the composer. Two of Luiz Bonfa's most well known works "Manha De Carnival" – from the acclaimed film "Black Orpheus" – and "Gentle Rain" are combined in a unique instrumental then vocal medley. The compositions of Joao Donato are not well known in the United States but the instrumental "A Rá" provides insight into his style. Paquito's instrumental, "One for Tom," was written for Antonio Carlos Jobim and Claudio's, "Red On Red," has become a "standard" in the Brazilian Jazz repertoire. Finally, Brazilian Dreams closes with "Snow Samba" – a composition penned by Paquito and Claudio on a snowy day in Chicago when they were dreaming of the sun and beach of Brazil.
D'Rivera's first project with MCG Jazz was during his tenure as musical director of the United Nation Orchestra. Paquito D'Rivera and the United Nation Orchestra, Live at Manchester Craftsmen's Guild (MCGJ 1003) garnered a GRAMMY® Award nomination for Best Latin Jazz Performance in 1998.
MCG Jazz is a division of Manchester Craftsmen's Guild, a non-profit arts and learning center in Pittsburgh, PA. This multi-discipline, minority-directed center provides hope and life skills to youth and adults in urban environments through jazz, visual arts, vocational training and business partnerships. Brazilian Dreams epitomizes these values with all of the proceeds from the sale of this CD going to support the MCG Jazz program. MCG Jazz, a specialty recording label, captures the magic of many of the jazz artists who perform at the center every year.
Find out more about Paquito D'Rivera