Prison Songs V. 2: Don'tcha Hear Poor Mother Calling?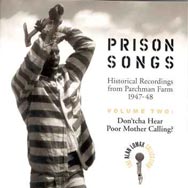 Release Date: 01 Jan 1997
Label: ROUNDER
Genre: POP & ROCK
CAT # 11661-1715-2

1. Don't You Hear Po' Mother Callin'? - Hollie Dew, Bull & group 1:23
2. John Henry - "22" & group
3. Strongest Man I Ever Saw - Tall tale by Bama
4. Well, I Wonder - Dobie Red & group
5. Lies - Bama, Dobie Red
6. I'm Goin' Home - Bama 2:05
7. More Lies - Bama, "22" & Bull
8. O 'Berta - Bull & group
9. Disability Boogie Woogie - Curry Childress
10. O Rosie - "22" & group
11. Hollers - Dobie Red, Foots
12. Stewball - "22" & group with axes
13. Fox Chase - Curry Childress, C.B. Banks
14. Katy Left Memphis - Percy Wilson
15. About Prison Singers - Interview with Dobie Red
16. Rosie - "88" & group
17. High Rollin' Sergeant - Tangle Eye
18. Garbage Man - Toast by George Johnson
19. When I Went to Leland - "22" & group
20. Prodigal Son - George Johnson
21. I'm Goin' to Memphis - Percy Wilson & group
Click here to purchase this album on Amazon.com

These songs belong to the musical tradition which Africans brought to the New World, but they are also as American as the Mississippi River. They were born out of the very rock and earth of this country, as black hands broke the soil, moved, reformed it, and rivers of stinging sweat poured upon the land under the blazing heat of Southern skies, and are mounted upon the passion that this struggle with nature brought forth. They tell us the story of the slave gang, the sharecropper system, the lawless work camp, the chain gang, the pen.' --Alan Lomax This is a complete album's worth of previously unreleased material from the same field recordings that yielded the legendary album, Negro Prison Songs. (Reissued in its entirety as Prison Songs V. 1: Murderous Home; Rounder 1714.)

This recording is currently out of stock from rounder.com in compact disc form, but readily available for all via download. Please click here.
Find out more about Alan Lomax Collection
MORE RELEASES FROM ALAN LOMAX COLLECTION
POP & ROCK ESSENTIALS