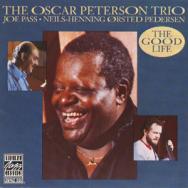 CAT # OJCCD-627-25

1. Wheatland 12:17
2. Wave 6:13
3. For Count 6:49
4. The Good Life 5:08
5. On A Clear Day 6:19
In 1973, Oscar Peterson formed a new trio. This was its first recording, and it left no doubt that bassist Niels-Henning Ørsted Pedersen and guitarist Joe Pass were worthy successors to Ray Brown and Herb Ellis, Peterson's colleagues in his classic group of the 1950s and Sixties. More than that, it established that the new Peterson trio had every likelihood of also becoming a classic. It became one, of course, with more than a decade of stunning achievement. These tracks, captured during the trio's maiden voyage at Chicago's London House, demonstrate that Peterson, Pass, and NHØP had remarkable empathy from the very beginning.

Find out more about Oscar Peterson Trio