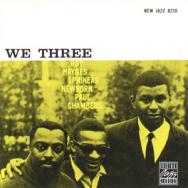 CAT # OJCCD-196-2

1. Relection 4:25
2. Sugar Ray 6:26
3. Solitaire 8:54
4. After Hours 11:21
5. Sneakin' Around 4:25
6. Our Delight 4:02
This was not a working trio, except for a series of Mondays at the Five Spot Café in the fall of 1958, but it is a unit that is made up of three powerful parts whose sum is even greater than its whole. What they do with two Ray Bryant orginals, Avery Parrish's classic blues, "After Hours," Tadd Dameron's "Our Delight," and Phineas Newborn's "Sugar Ray," is memorable music from an all-star trio that would never get together again.
Find out more about Roy Haynes With Phineas Newborn & Paul Chambers
MORE RELEASES FROM ROY HAYNES WITH PHINEAS NEWBORN & PAUL CHAMBERS
JAZZ ESSENTIALS