Randy Brecker
ABOUT

RANDY BRECKER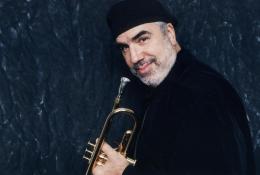 The Brecker Brothers—three-time GRAMMY winning trumpeter Randy, and his young tenor saxophonist brother Michael—grew up playing music together in Philadelphia before elder brother Randy departed for Indiana University. Upon arriving in New York in 1966, Randy's first gig was with Clark Terry's big band. Soon after, he hooked up with Blood, Sweat & Tears and hit the road. A 19-year-old Michael is heard blowing scorching tenor licks on Randy's 1968 debut recording as a leader, Score, on the Solid State label (recently reissued by Blue Note).
In 1970, the brothers joined with drummer Billy Cobham, trombonist Barry Rogers, guitarist John Abercrombie and the songwriting team of Jeff Kent and Doug Lubahn to form the seminal fusion band Dreams. After two records on the Columbia label, Dreams disbanded and the brothers teamed up on the frontline of Horace Silver's quintet. A year later they joined Billy Cobham's powerhouse fusion group and by 1974, they were ready to front their own group. Drawing on a pool of New York session regulars, they formed the Brecker Brothers Band and saw their self-titled debut released on Arista Records in 1975.
"That first Brecker Brothers record, in fact, was originally supposed to be my solo record," Randy reveals. "Arista Records founder and CEO Clive Davis heard about it through Steve Backer, the producer, and thought it would be an easier sell as a brother act. He offered to sign the band without even hearing it if I called it the Brecker Brothers. It was a little bit if a stretch because Sanborn was there from the beginning as the third horn, kind of like an honorary brother. Then we used him on the second record too, and during that period he did his own first album, Takin' Off, which indeed took off big-time. That was the beginning of Dave's solo career."
The Brecker Brothers followed with five more highly successful crossover albums before disbanding in 1982. During that seven-year stretch they remained extremely active as first-call session players, appearing on hundreds of pop and jazz recordings by such stars as Bruce Springsteen, Billy Joel, James Taylor, Lou Reed, Steely Dan, Frank Zappa, Joni Mitchell, Paul Simon, Carly Simon, John Lennon and Yoko Ono, and Janis Joplin.
After the Brecker Brothers disbanded, Randy joined the ranks of Jaco Pastorius! Word of Mouth Big Band and sextet while Michael joined the progressive fusion group Steps Ahead. Following a Brazilian project with his then-wife Eliane Elias (Amanda in 1985), Randy returned to his bop roots in 1986 with In the Idiom and continued in that vein the next year with Live at Sweet Basil. He returned to a more commercial funk-fusion direction on Toe To Toe in 1990, then in 1992 Randy and Michael reunited for the aptly-titled Return of the Brecker Brothers. Their 1994 followup, Out of the Loop, received a GRAMMY for Best Contemporary Jazz Performance, and Randy received a GRAMMY the following year for his Brazilian-flavored Into the Sun. In 2001, Randy took a walk on the urban side with the decidedly nasty Hanging in the City. He followed in 2003 with 34th & Lex, which garnered him his third GRAMMY and reunited him in a potent horn section with brother Michael, alto star Sanborn, baritone sax ace Ronnie Cuber and funk hero Fred Wesley on trombone.
Now comes the June 2006 multi-channel SACD release of Some Skunk Funk, which places Randy Brecker's prodigious chops and stellar compositions on full display, alongside brother Michael's inimitable tenor work, in the expanded orchestral context of the WDR Big Band.